Background
Recently, advanced of wearable technology, we can collect physiological signals(ECG, Bio-impedance and etc) effectively. Through this technology, we approach "Nocturnal enuresis disease" in new manner. Nocturnal enuresis is a pediatric disorder which indicates the involuntary voiding during sleep. Preceding research has a lack of on medically occurring mechanisms and biologic changes at right before the involuntary event. Current therapy can not prevent the event, so it is also uncomfortable. In our research, we continuously collect and analyze vital signs, experimentally determine how vital signs change when nocturnal enuresis occurs. The goal of this study is collect the bio-signals and analyze the signals to figure out occurring mechanisms of nocturnal enuresis. We expect, after analyze phase, we can predict the involuntary event and we can propose advanced therapy systems.
Method
In order to estimate the enuretic incidents, we have investigated the existing studies in the pediatrics, the urology, the neurology, etc. We set the several hypotheses about physiological signals to estimate nocturnal enuresis.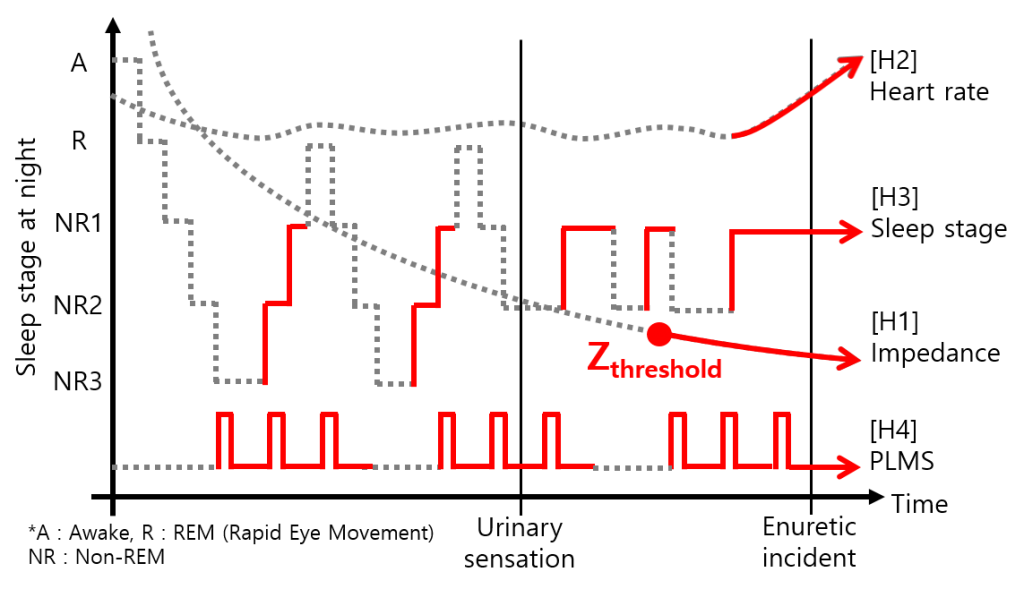 H1 : Before the enuretic moment, the impedance values show a gradual decrease due to production of the urine

H2 : The exceptional increase of the heart rate occurs between the moment of appearing the urinary sensation and the enuretic moment

H3: The enuretic incident happens after the sleep stage transition from one to closer to the arousal state.

H4: PLMS(periodic limb movement in sleep) strongly correlates with the nocturnal enuresis
To demonstrate those hypotheses, we construct the framework. By wearing the wearable devices, we can get the physiological data of patients during a sleep at home not laboratory. Each data is processed and analyzed to estimate the enuretic incident by using machine learning or conventional signal processing.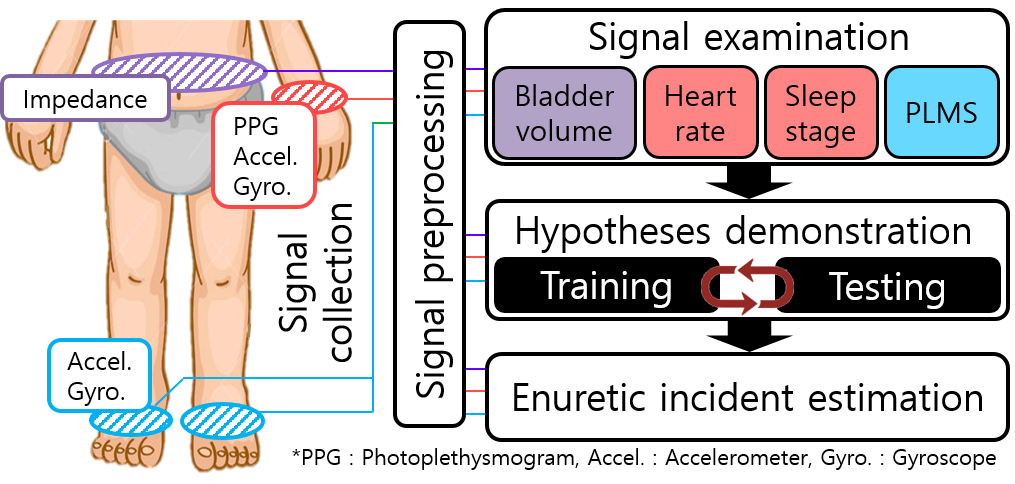 Relavant Publications
Sangyeop Lee, Junhyung Moon, Taeho Lee, Saewon Kye, Seung-chul Shin, Kyoungwoo Lee, "Sleep Stage Classification for Managing Nocturnal Enuresis through Effective Configuration ", 2017 IEEE International Conference on Systems, Man, and Cybernetics (SMC) (Accepted)
Saewon Kye, Junhyung Moon, Seung-chul Shin, Sangyeop Lee, Taeho Lee, Kyoungwoo Lee, "Detecting Periodic Limb Movements in Sleep using Motion Sensor Embedded Wearable Band", 2017 IEEE International Conference on Systems, Man, and Cybernetics (SMC) (Accepted)
Seung-chul Shine, Junhyung Moon, Saewon Kye, Kyoungwoo Lee, Yong Seung Lee, Hong-Goo Kang, "Continuous Bladder Volume Monitoring System for Wearable Applications", IEEE 39th Annual International Conference of the Engineering in Medicine and Biology Society (EMBC) (Accepted)
Junhyung Moon, Sangyeop Lee, Taeho Lee, Saewon Kye, Yong Seung Lee, Seung-chul Shine, Kyoungwoo Lee, "A Prospective Study of Examining Physiological Signals for Estimating Occurrence of Nocturnal Enuresis", IEEE 39th Annual International Conference of the Engineering in Medicine and Biology Society (EMBC) (Accepted)